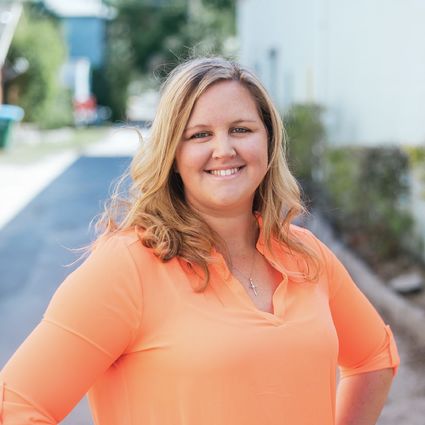 Jamie Porter
Realtor®
A little about me
and why I love real estate
Like many other Realtors, Jamie grew up right here in New Smyrna Beach. She worked in the medical field for 12 years before turning the passion to help people from a different aspect. After having a bad experience herself in real estate, she wanted to make a difference. Traded scrubs for blazers and embarked on her Real Estate career.
Jamie and her husband have 3 daughters. Many family members including her husband served in the military. She has a desire to help our first responders and enjoys
volunteering and giving back to our local businesses, schools and community.
Helping someone achieve the American Dream is an amazing experience and would love to be a part of it.
As a co-leader of the Your Homegirls Team, their goal is to work with their clients in such a way that encourages them to feel not only willing, but excited to refer them to their closest friends and family for the same experience!
Our clients are awesome
and here is what they are saying
"Kerrianne is THE BEST. I don't write reviews and I don't recommend people unless they really deserve it and won't let me down. Kerrianne is THAT person. She does not mess around and works extremely hard."
"Olivia helped us to buy our dream condo in New Smyrna Beach. Throughout the process she aligned herself fully with our wants and requirements and fought hard to get us to closing. She kept in close communication throughout the weeks leading up to the closing and advocated for us every step of the way.Her availability kept us calm and focused and we are thrilled with our new beach home."
"Tara was great, she got our home listed fast and under contract fast. What more can you ask for? Now, she has the task of finding us the perfect home which we are absolutely confident she will do. Would recommend to anyone!"
"Megan was available during non-typical business hours. Quick with an answer at 1000 pm. as she would be with a response to a question at 1000 am. Professionally dealt with hard to handle clients (me) when they went against recommendations and implemented clients requests."
"Kerrianne is a very educated and hardworking realtor. She was proactive in everything she did for us in securing an amazing deal. We did not have to worry about the unknowns as she ensured we were educated and informed every step of the way. I highly recommend her, you will not be disappointed or suffer unexpected delays."
"Tara is a great person to work with when you are buying a home. She communicates very well. I would recommend her to all my friends and family that need a realtor. She kept me informed through the whole buying process."
"We had a great experience with Kerrianne. Her responsiveness, knowledge of the market and negotiating experience was outstanding. We were cutting it close, to close before the New Year and she was on top of everything and her communication with all parties involved was great."